The Case for Cockatiels as College Football Experts
Who are the real college football experts? How is expertise proven? At CollegeFootballWinning.com, we defer to numbers to answer those questions. Since our entire focus is college football betting analysis AND we are held accountable by real numbers (i.e. money won and lost), the quantitative serves as our ultimate method of arbitration. This article, therefore, is an exploration of those numbers with the intent to suggest who might or might not be the real college football experts.
A Jock, a Coach, and a Publisher
Whether you like him or not, Kirk Herbstreit has become the face of college football. Since ESPN's College Gameday is the most popular college football show, Herbstreit's central role puts him front and center of the college football world. Kirk Herbstreit is a coach's son and a former quarterback (for The Ohio State University). He covers college football professionally (for ESPN), and that gives him rare access to coaches, players, practices, etc. By any measure, Kirk Herbstreit is a college football "insider," but is he a college football expert? At the end of College Gameday's (in-season) weekly show, Herbstreit (and others) make predictions on a number of college football games to be played that week. These predictions are NOT against-the-spread; they are simply predictions of which teams will win their games outright or straight-up (SU), as we say in the sports-betting world. Thanks to someone who calls himself "Gameday Cole," we know just how accurate Kirk Herbstreit has been. In 1,101 predictions (as of the end of the 2014-2015 college football season), Herbstreit has been correct 61.13% of the time.
There is also a former coach (and player) featured on College Gameday: Lee Corso. Although Corso turns 80 this year, he is the Gameday personality who dons the iconic headgear of the team he predicts will win (SU) the college football matchup du jour. Like Herbstreit, Coach Corso has access to coaches, athletes, practices, etc. Surely he should be considered one of the college football experts, right? Out of Coach Corso's 243 "headgear" predictions (again, SU and NOT against-the-spread predictions), he has been correct 68.72% of the time.
Phil Steele publishes an annual college football preseason magazine that has become the most popular of its kind. He is or has been on the committees to select some of college football's most prestigious awards including (but not limited to): the All-American Team, the Heisman Trophy, the Lombardi Award, the Biletnikoff Award, the Outland Trophy, the Jim Thorpe Award, the Lou Groza Award, and the Doak Walker Award. Is it any wonder that many consider Phil Steele one of the college football experts? Steele appears on a number of television and radio programs where listeners can get some of his college football predictions. Once again, Gameday Cole has tracked 463 of Steele's SU (and NOT against-the-spread) predictions. Steele's straight-up winning rate is 71.06%.
What Should College Football Experts Look Like?
Suppose that (again, not predicting games against-the-spread) the college football "experts" just predicted the favorite would win the game, no matter who was playing at any location and under any circumstances. In other words, imagine a cockatiel trained to say just two words: "The favorite." Now imagine asking that cockatiel who would win any college football game. Over the past 10 seasons of college football, the cockatiel would have had a winning rate of 76.05%! You read that correctly: Favorites (of any kind) over the past 10 seasons won their games outright (SU) 76.05% of the time, making that cockatiel more accurate than Kirk Herbstreit, Lee Corso, and Phil Steele. The results of these college football "experts" are shown in graphic form, below: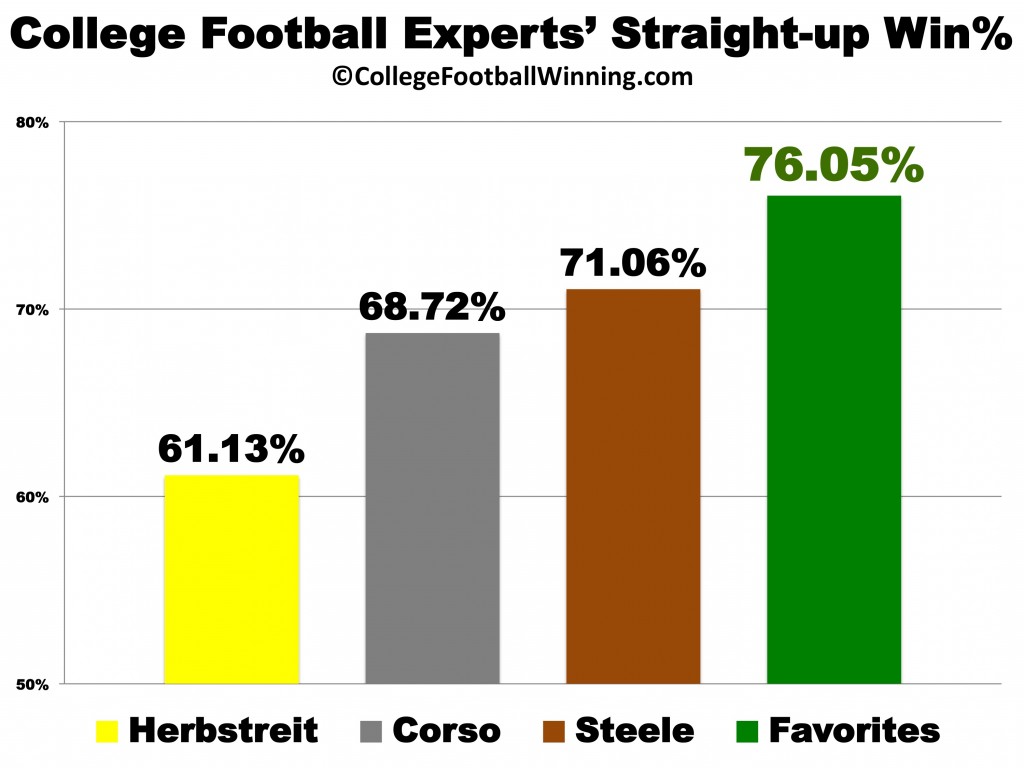 Epilogue
Since we are solely focused on college football betting analysis, we think we know what you are thinking: Why not bet only on favorites? After all, they won SU at a rate of 76.05%. Betting on favorites TO BEAT THE SPREAD would have been a losing strategy: Those same favorites that won straight-up at the rate of 76.05% only beat the spread 49.72% of the time, which means that betting $1,100 (to win $1,000) on every college football favorite over the past 10 years would have amounted to a loss of $431,600. One might (and should) conclude what every legitimate sports bettor knows: picking straight-up winners is much easier than picking against-the-spread winners. That conclusion is obvious, but answering our thesis question, Who are the real college football experts?, is less obvious. At CollegeFootballWinning.com, we think that we can prove quantitatively that we are college football experts at against-the-spread analysis. As for the popular pundits who many consider college football experts, the next time you hear a series of predictions from them, see if they know more than a cockatiel.