Kansas State's Bill Snyder: A Panegyric
"The numbers don't do justice to what Bill Snyder has accomplished in his career." That was how Rece Davis helped to induct Kansas State head football coach, Bill Snyder, into the College Football Hall of Fame in January of 2015. From our perspective, Davis was wrong because the right numbers do him justice. Doing justice to Coach Snyder's performance, as we explained in a previous article, can be approximated using a single metric that assesses a coach and his team's performance based on expectations in context– something that win-loss records and championships fail to do. That metric is a team's margin of victory (MOV) against-the-spread (ATS). [To read all about MOV ATS and its efficacy as an assessment tool, please CLICK HERE.] Using MOV ATS when assessing Snyder's performance reveals just how great a coach he is, and it does so quantitatively. Simply put, when a head coach's team has an excellent MOV ATS, he is primed for promotion; when a head coach presides over a team with a terrible MOV ATS, he should prepare for a job change. In this article, we explore Coach Snyder's MOV ATS, and place it into a quantitative context that illustrates what any college football enthusiast already knows: Bill Snyder is a great football coach.
In our article entitled, From Coaching College to Coaching in the NFL: MOV ATS, we showed how our favorite coaching assessment metric (MOV ATS) identified certain college coaches as outperforming expectations enough to be offered NFL head-coaching positions. In particular, we focused on Pete Carroll, Chip Kelly, and Jim Harbaugh. After (indeed, because of) their college football success, all three coaches were aggressively courted by the NFL. We cite that fact as corroboration for our own determination that, using MOV ATS, we can identify how coaches are performing relative to public expectations. Kansas State's Bill Snyder is one of the best coaches in all of college football, as measured by MOV ATS (and using his latest tenure as K-State's head football coach). Before the 2009 season, Coach Snyder emerged from retirement as the savior of Kansas State football. Since that time- six full seasons totaling 76 games- Snyder's Wildcats have beaten the spread by an AVERAGE of 4.22 points PER GAME. That extraordinary figure places Coach Snyder ahead of both Pete Carroll and Chip Kelly. The chart below is a graphic representation of Snyder's performance compared to the three coaches who were (justifiably) plucked from the college ranks for the NFL: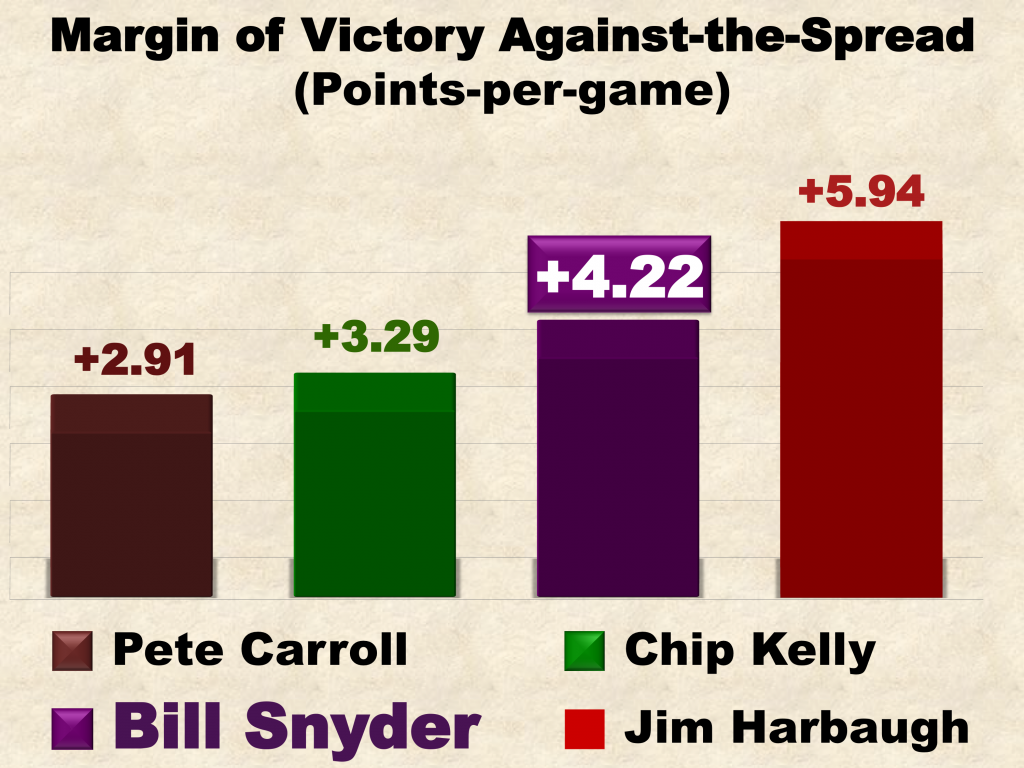 Only Jim Harbaugh surpasses Bill Snyder, but Harbaugh's four years at Stanford began with little-to-no expectations, while Bill Snyder was a returning legendary K-State coach when he returned to coaching in 2009 AND our metric judged Snyder on six full seasons (rather than Harbaugh's four). As a matter of fact, Snyder's six-year MOV ATS is better than two of Harbaugh's four at Stanford.
Setting aside ageism and the fact that he already spurned the NFL earlier in his coaching career, Bill Snyder's college coaching performance is NFL-worthy and then some. Adding his loyalty to Kansas State University and the character development he brought to his athletes, and we have qualitative and quantitative measures all leading to the same conclusion: Bill Snyder is a great football coach.